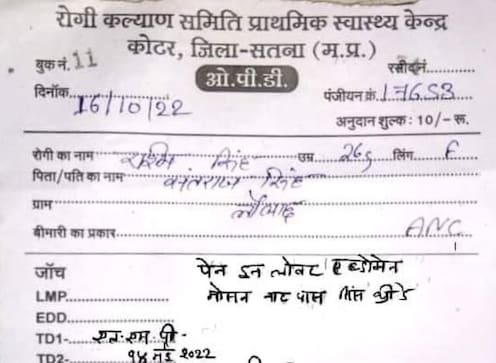 In response to Madhya Pradesh Chief Minister Shivraj Singh Chouhan's request that MBBS topics be taught in Hindi at state government institutions, a doctor has already put it into reality by writing prescriptions for medication in Hindi while waiting in the CM queues. Notably, this took place on the same day that Madhya Pradesh's first-year MBBS students received their Hindi textbooks from Union Home Minister Amit Shah. The Hindi recipe has gained popularity online and attracted notice, particularly since the top of the receipt has "Shri Hari" written there instead of "Rx."
In the event, a patient was given a list of medications printed in Hindi by Dr. Sarvesh Singh, a primary health centre (PHC) medical officer stationed in Madhya Pradesh's Kotar hamlet in the Satna district. Following Chief Minister Shivraj Singh Chouhan's intention to implement MBBS courses in Hindi, a doctor in Satna did the same thing, according to a tweet sent by Chetan Tiwari. He wrote medical prescriptions in Hindi.
The pharmaceutical information, dosing instructions, and patient information are all written in Hindi as can be seen from the sheet of paper. But the name "Shri Hari" at the top of the page was what drew their attention. The "Rx" sign is often used by doctors to denote a prescription.
However, at a recent address in Bhopal, CM Chouhan said that physicians might choose to put "Shri Hari" above prescriptions and then include the medications in Hindi.
Many people have been interested in the recipe that has become popular online; some have praised the doctor's action, while others have made jokes about it. Additionally, a user stated: "This is not Hindi. It combines the Devanagari script with Hindi and English.
Hindi books are given out by the home minister to MBBS students.
Home Minister Amit Shah had earlier on Sunday, October 16, 2022, distributed three topic Hindi textbooks for MBBS students. He hailed the occasion as significant since Madhya Pradesh was the first state to begin offering MBBS programs in Hindi. Notably, the action was taken as part of a large-scale initiative by the state government that wants to provide medical education in Hindi.
A number of students attended the event along with the prime minister, Shivraj Singh Chouhan, and the minister of medical education, Vishvas Sarang.