The highly transmissible BF.7 Omicron subvariant has been detected in India. 
In India, the number of new COVID-19 cases is going down. In the last 24 hours, 2,060 new cases were reported. But new variants of Omicron keep emerging. The one that is rapidly spreading all over the world is the BF.7, and India is not protected against it.
The Gujarat Biotechnology Research Center found the first case of BF.7 in the country. It is considered highly infectious with increased transmissibility.
Where did BF.7 come from?
The Omicron variant started in Mongolia and is now spreading to other countries, posing new dangers. It is one of the variants responsible for the rebound in cases in China.
The variant is also spreading to the United States, United Kingdom, Australia, and Belgium.
The US Center for Disease Control says that BF.7 accounts for 5.3 percent of cases and is being monitored as a variant of concern along with BQ.1 and BQ.1.1.
According to the UK's Health Security Agency, BF.7 accounted for 7.26 percent of cases. According to the Indian Express, it has a 17.95 percent relative growth advantage over BA.5.
What about India?
BF.7 has been detected in the country. Experts have recommended appropriate behavior for COVID-19 ahead of the holiday season.
The Director of Internal Medicine at Max Hospital, told Livemint: "Omicron BF.7 was previously the subject of a warning from the World Health Organization (WHO), which said it was expected to replace the variant's existing dominant."
He added that, like all Omicron variants, "it can escape the immune system."
What are the symptoms of BF.7?
Symptoms of the BF.7 subvariant include continuous cough, difficulty hearing, chest pain, and tremors. It could also affect the sense of smell.
Is there any reason to worry?
Health experts have said that the festival season is when people gather in large numbers and tend to forget about social distancing. They have said that people should wear masks and avoid places with a lot of people to stop the subvariant from spreading.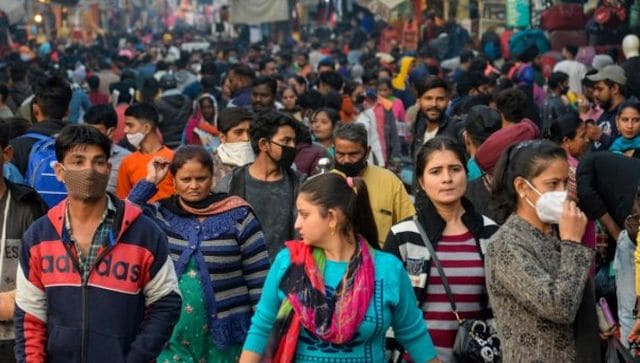 As new variants emerge, doctors have said to wear masks and avoid crowded places, especially ahead of the festive season. ITP
Are there other variants spreading in India?
In India, it is the XBB variant that is also causing concern with a rise in cases in states such as Maharashtra – there has been a 17.7 per cent rise in coronavirus cases in the state. A hybrid of Omicron's BA.2.75 and BJ.1 subvariants, it was first discovered in Singapore in August and has been linked to a significant increase in COVID-19 cases on the island.
According to an official bulletin from the Maharashtra health department, the XBB variant was reported to have "growth advantage over BA.2.75 and immune evasive property". The BA.2.3.20 and BQ.1 variants were also discovered in the state, a first for the country.
There has been an increase in cases in the densely populated areas of Maharashtra like Mumbai, Thane and Raigad. "Some experts forecast an increase (in cases) in the upcoming winter season, particularly in festive settings," the bulletin warned.
At least 10-15 percent of samples sequenced in India show the presence of XBB, Times of Hindustan reports.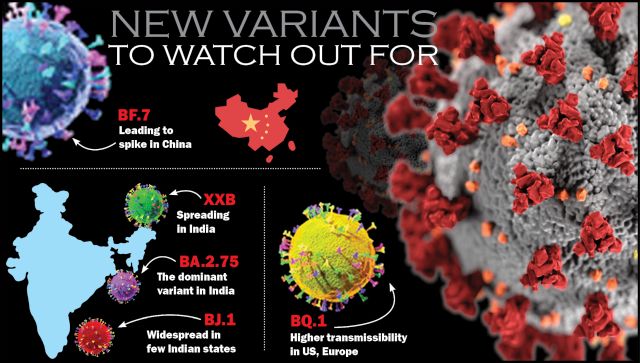 Graphic: Pranay Bhardwaj
Kerala, one of the states most affected by the pandemic, is stepping up preventive measures. State Health Minister Veena George said in a statement that since the new genetic variants, XBB and XBB1, of covid-19 are more contagious than the previous ones, everyone, especially the elderly and those with comorbidities, should have more. Be careful and wear masks. properly for self-protection, reports News18.
While new variants are emerging, the BA.2.75 remains the dominant variant in India. According to a recent study by Chinese researchers, this variant also has high resistance to antibodies.
Does this mean another wave is coming?
There is a chance that the number of cases will go up because of too many people around during the holidays. "Cases are likely to increase, but not for any reason. It would be because people gather during festivals, they hardly wear masks anymore," Dr. Sudhanshu Vrati, director of the Haryana Regional Center for Biotechnology, told The Indian Express.
However, he said emerging variants are "more transmissible" and "better wired to escape immunity."
The number of serious cases has been reduced in the country and there are few hospitalizations.