Album ON Prayer In The History of Assamese music Namo By Zublee Baruah.
"A Glimpse About the Upcoming "Namo".
Doul Govinda temple has its own identity and history, the devotees worship Lord Sri Krishna, and they gather together every morning in the Mandir premises of Lord Doul Govinda and wait a long queue, sometimes for hours to offer obeisance to the deity at the workroom sanctorum.  This is the first  time that the Mandir will be experiencing the release of a  Music album  in the temple premises.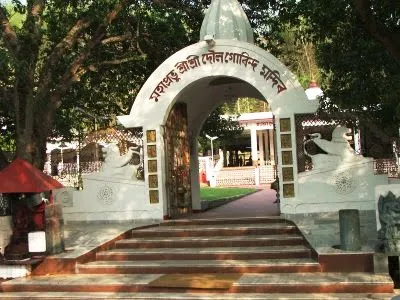 Music is inspiration of everyone, each and everyone love listing to music, Music is divine and it comes from essence. Now a day's devotional music is also loved by the people. Devotional music is composed by Mahapurush Srimanta Shankardev named as Naam and Kirtan.  The album is expected to mesmerize the audience with its traditional touch of music.
Singer and composer Zublee Baruah today presented a new and prominent contribution to Assamese music and the released of an audio CD "Namo", which is compose of selected prayers from Sri Sri Madhavdev's  'Naamghosha'.
Zublee Baruah, singer and composer, says, "One of the main reasons behind making this album is that, today's generation is forgetting our culture and it's on way to demolished and it's our duty to keep our tradition alive.  In my opinion we should try to protect and teach our prayers in every school, weather it's English or Assamese medium, school plays an important role in our life.  In Assamese medium school   Assamese traditional prayers are taught in curriculum's which are not included in English medium schools. "
She further mentions," Another reason of  making this album each and every singer has a social responsibility our traditional prayers  are developed in the region, as many people forget it."
 The CD was officially released in North Guwahati's historic and mythological place Dol Govinda temple by the committee members of the temple.  It's a good attempt by Ms. Zublee to safeguard the age of old cultural traditions practiced in every Assamese household and also to introduce the new generation to spiritual teachings of Namghosha.  It's good news that in this occasion there is signature mark that one of the singer Arshiya Mahanta debut through this album, who rented her melodious voice to two prayers in this album.
The show was hosted by Dr Sabyasachi Mahanta, which was further decorated with the voices of Zublee and Arshiya both of whom sang a prayer. This CD will have all the ingredients to make itself a landmark in the history of Assamese music.