One of the world's most elusive collections of automobiles is the Ambani family's collection. Mukesh Ambani is known for having a collection of some of the most expensive and unique cars in the world. Although the Ambani family has a collection of SUVs and top-of-the-line luxury cars from all the major manufacturers, the Bentley Bentayga has grown to be one of their most cherished vehicles.
The couple arrived in a white Bentley Bentayga at a recent Diwali celebration hosted by renowned fashion designer Manish Malhotra. The couple drove up to the party in a white Bentayga, which was caught on camera and put on the YouTube channel Cars For You. The registration number of the new Bentley Bentayga that Mukesh Ambani bought was used to find out more about the car. On the car's registration, Reliance Industries is listed as the owner. Reliance Industries is the holding company for all of the businesses owned by the Ambani family.
The most recent model of the massive SUV from the British automaker, the white Bentley Bentayga, was registered in April 2022. The Bentley Bentyaga 4.0-litre twin-turbocharged V8 petrol engine, which also powers a number of other specialist SUVs including the Porsche Cayenne, Lamborghini Urus, and Audi RS Q8, provides all of the vehicle's power. This engine has an 8-speed automated transmission and can generate up to 550 PS and 770 Nm of maximum torque in the Bentayga. A facelifted version of the SUV, the Bentayga special edition debuted in 2020. The pre-facelift model also had a bigger and more powerful 6.0-litre W12 petrol engine, but it was removed with the debut of the 2020 model. redesigned model.
Ambani family loves Bentley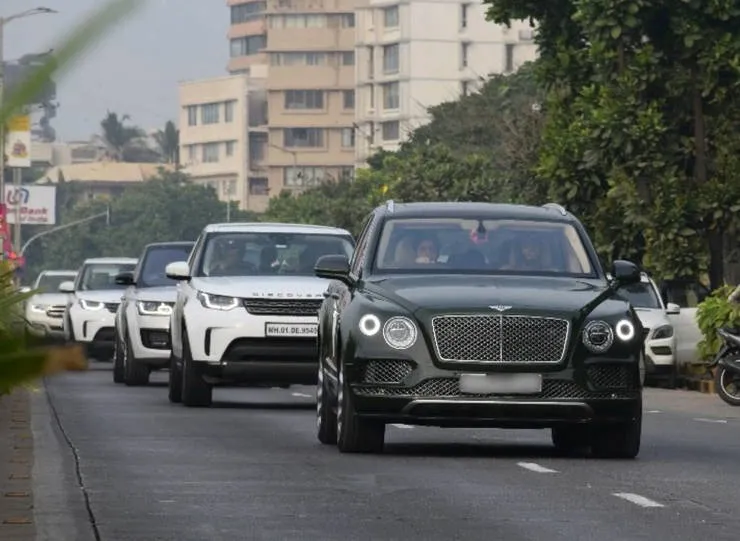 The Ambani family also owns a Flying Spur, Continental GT, and a Mulsanne in addition to these Bentleys. Additionally, the Ambani family is the proud owner of every top-of-the-line vehicle produced by luxury automakers including Rolls-Royce, Lamborghini, Mercedes-Benz, BMW, Land Rover, and Ferrari. All the family members, including Mukesh Ambani, Akash Ambani, and Anant Ambani, drive these high-end luxury and sports vehicles around the streets of Mumbai while being followed by a convoy of security personnel in additional high-end SUVs.
The white Bentayga that can be seen in the video is not Mukesh Ambani's only Bentayga. The Ambani family's first Bentley Bentayga was the top-of-the-line W12 model in a rich-looking Emerald Green color. The Ambani family also owns two other Bentaygas, one in ruby red and the other in white, in addition to these two.
The Bentley Bentayga, the first SUV made by the British luxury car company, is showing off its best-known model around the world. In addition to the Bentayga, Bentley also offers the four-door Flying Spur and the two-door Continental GT.