On Saturday, the rupee fell 15 paise against the US dollar and closed at a record low of 82.82 (provisional). This happened because the US dollar was strong and investors were afraid to take risks.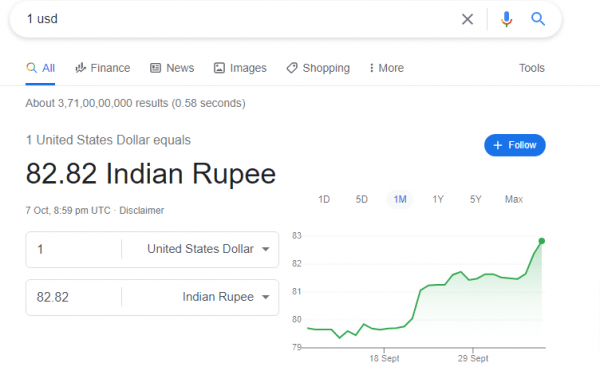 Currency traders said that investors were less interested because domestic stocks were going down and the price of crude oil was high.
On Friday, on the interbank foreign exchange market, the local currency started the day at 82.19, then dropped to 82.43, and ended the day at an all-time low of 82.32, which was 15 paise lower than its previous closing.
Thursday was the first time that the Indian currency ended the day below the 82 levels against the dollar. It fell 55 paise and ended the day at an all-time low of 82.17 against the US dollar.
The dollar index, which shows how strong the dollar is compared to a group of six other currencies, fell 0.19 percent to 112.04.
Brent crude futures went up 0.82 percent to $95.19 a barrel after the OPEC oil cartel decided to cut production because global demand was falling.
The 30-share BSE Sensex fell 30.81 points, or 0.05 percent, to close at 58,191.29, while the broader NSE Nifty fell 17.15 points or 0.05 percent. 1%, which is 17,314.65.
According to data from the exchange, foreign institutional investors were net buyers on the capital market on Thursday, buying shares worth $279.01 crore.