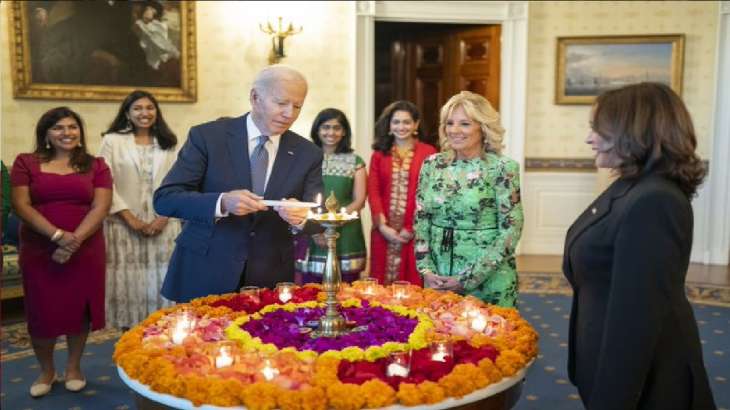 Diwali Celebration:
A number of nations celebrate the Diwali light festival across international boundaries. People of Indian descent and those with no ties to India both celebrate the event. All social groups, from commoners to superstars, enjoy Diwali. Politicians are no different, of course. The White House held a Diwali celebration on Monday that US President Joe Biden and First Lady Dr Jill Biden referred to as the biggest since the People's House started celebrating the holiday under the George W. Bush administration.
Kamala Harris, who is the vice president of the United States, was also at the party. She drank a sparkling drink called "Phuljhadi" and laughed with other people of Indian descent.
Biden's Diwali Party
The reception was held in the East Room, which has been the site of many important events between India and the US, such as the signing of the nuclear agreement and the joint press conference held in November 2008 by then-US President Barack Obama and Indian Prime Minister Manmohan Singh. More than 200 well-known Indian Americans attended the event.

The Sa Dance Company and sitarist Rishab Sharma both gave captivating cultural performances during the gathering.
The visitors enjoyed some delectable Indian fare while dressed in traditional Indian garb including saris, lehengas, and sherwanis.
"The Eastern State Dining Room is packed…
This event honours the achievements of the American Indian population throughout the country. The President and the White House have done us all a great service by wishing us a happy Diwali.
What the guests have today
As an American Indian, I feel really honoured to be here, "said Atul Keshap, head of the US Indian Business Council," to PTI at the event.
"It is a pleasure and an honour to be here to celebrate Diwali. The First Lady and President are grateful for this, and Indian Americans appreciate it, said HR Shah, president and chief executive of TV Asia, the biggest South Asian television network in the US.
The leaders of our thriving American Indian community coming together at the White House on Diwali to be a force for good was encouraging.
MR Rangaswami, a businessman, philanthropist, and founder of Indiaspora, said that it was also nice to hear that the President had named Rishi Sunak as the next Prime Minister of the UK on Diwali.
The occasion was arranged, according to Ajay Jain Bhutoria, a member of the President's Advisory Commission on Asian Americans, Native Hawaiians, and Pacific Islanders, to celebrate the South Asian community's contributions to economic growth and handling the Covid problem, among other things.
According to him, Biden has appointed a record number of Native Americans—more than 130—to different levels of government.
Bhutoria said that the Diwali celebrations showed "how much President Biden and this administration care about and respect the South Asian community."
Biden had earlier welcomed everyone and said that this was the first time the White House had held a Diwali party with this many people.
The incredible South Asian community in the United States, he said, "has helped the country come out of this pandemic stronger, building an economy that works for everyone, teaching children and caring for the elderly, answering the cry for climate action, working to fix the immigration system, defending rights and freedoms, building a more just and equitable country, serving and protecting our communities and the nation, informing, entertaining and inspiring."