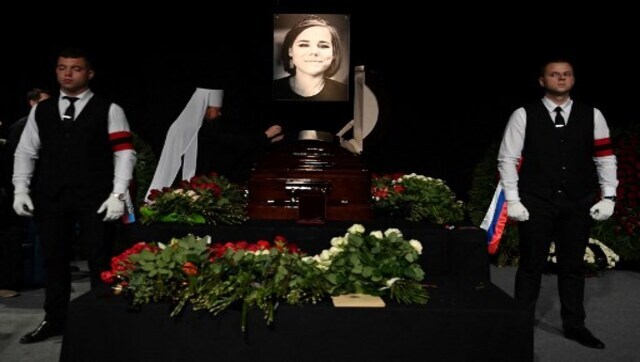 On August 23, 2022, a photograph of Daria Dugina, the daughter of Russian ultranationalist and close adviser to President Putin Alexander Dugin, who was murdered in a vehicle bomb explosion, is exhibited alongside his coffin during a goodbye service at the Ostankino broadcasting centre in Moscow. AFP

Washington: According to US intelligence services, the Ukrainian government sanctioned the bombing near Moscow in August that killed the daughter of Russian President Vladimir Putin's close aide, Alexander Dugin, and that the aim was the father, not the daughter. According to one story in The New York Times.
Darya Dugina, the daughter of Russian strategist and ultra-nationalist Alexander Dugin, dubbed "Putin's genius," was murdered in a vehicle explosion outside Moscow on her way home from an event.
"The carefully guarded judgment of Ukrainian cooperation, which had not previously been revealed, was communicated inside the US administration last week," the New York Times said.
According to the research, although Ukrainian troops had proved the capability of conducting such sabotage assaults deep into Russia, the Dugina attack was the most ambitious of such operations. It demonstrated that even the most powerful Russians were not beyond the grasp of Ukrainians.
Moscow claimed that the killing was carried out by Ukraine's secret services. According to Russia's Federal Security Service (FSB), Ukrainian national Natalya Vovk committed the murder and subsequently escaped to Estonia.
US intelligence agencies think Aleksander Dugin, not his daughter, was the intended target of the bomb. Darya Dugina
"This was the father's car." Darya was previously driving another automobile, but today she borrowed Alexander's car while Alexander went a different route. He returned to the site of the catastrophe. "From what I hear, Alexander or maybe both of them were the targets," Andrey Krasnov, chairman of the Russian Horizon social organization, told TASS.
the New York Times According to the study, which was published this week, the US was not engaged in the assault, and they were unaware of the operation and would have opposed the killing if contacted.
According to the report, US authorities notified Ukrainian officials about the killing.
According to an earlier NYT account, Darya Dugina, 29, was driving for approximately 10 minutes after leaving the "Tradition" music and literary event when her automobile detonated. His father was meant to drive, but he changed his mind at the last minute and took a different vehicle.
Following the death of Putin's close adviser's daughter in Moscow, the US denounced targeted killings of civilians and said that it is particularly against this conduct, whether it happens in Kyiv or Moscow.
"So I have nothing to add to what everyone has already heard publicly: Ukraine has denied any role in the assault on this guy." "We categorically condemn assaults on civilians," said US State Department spokesperson Ned Price during a news briefing in August.
"We condemn assaults on citizens in Kyiv, Bucha, Kharkiv, Kramatorsk, Mariupol, and Moscow." "That idea applies everywhere," he continued.