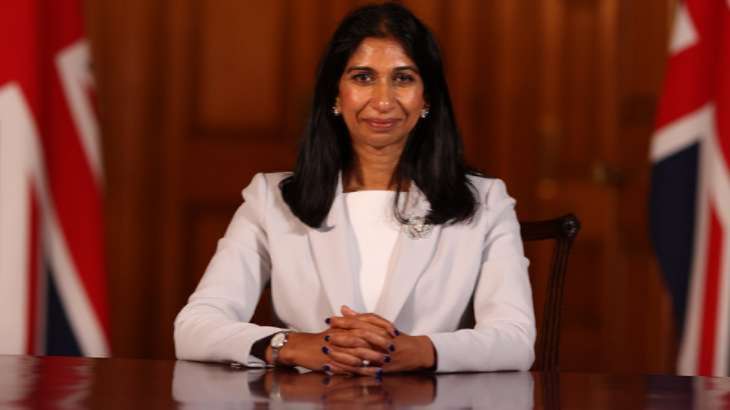 Suella Braverman, the British Indian Home Secretary, resigned on Wednesday after making the "mistake" of using her personal email for ministerial communication. This is the latest setback for Prime Minister Liz Truss, who is already under fire from Conservative lawmakers for his failed economic strategy.
Just 43 days after British Prime Minister Truss assumed office at 10 Downing Street, Braverman was named Home Secretary. Following a face-to-face discussion with Truss on Wednesday, he resigned and uploaded a letter of resignation to his Twitter page.
The 42-year-old attorney added, "I have committed a mistake, I accept responsibility, and I quit." According to Braverman, he "sent an official document from my personal email to a trusted parliamentary colleague" and that the document was a draught Written Ministerial Declaration on Migration that would soon be released.
"However, I should go as it is proper. I quickly reported my error via formal means and contacted the cabinet secretary as soon as I became aware of it," he stated.
According to the BBC, Grant Shapps, who supported Indian-born Rishi Sunak heavily during the Conservative leadership race, is most likely to become the next home secretary.
When Truss became prime minister, she fired Shapps from his position as transport secretary, and Anne-Marie Trevelyan took over.
Prime Minister Truss said in a brief letter accepting Braverman's resignation: "It is imperative that ministerial code and cabinet secrecy be honoured."
"I am appreciative of his work as Home Secretary. His unwavering dedication to ensuring the safety of the British people has distinguished him throughout his tenure in government. In order to secure the safety of the Royal Family and everyone assembled in grief for Her Late Majesty The Queen, he supervised the greatest ceremonial police operation in history, involving thousands of officers from the forces throughout the UK.
Braverman's resignation letter details her "concerns" with the government's course and if it is upholding the platform on which she was elected.
He noted that "we are going through a turbulent period… " in remarks that would give his boss Truss a further blow. I'm worried about the way this government is going.
Not only have we broken important promises to our supporters, but I also really doubt that this administration will carry out other promises made in the manifesto, such as cutting overall migration and halting illegal immigration, especially those risky small boat crossings, Braverman added. said he.
She expressed gratitude to the employees, special advisers, and ministry staff for all their assistance during her tenure as home secretary, calling it "a real honour" to have worked for the Home Office.
After raising "concerns" about what he thought would be a "open borders" stance in impending trade negotiations with India, he resigned a few days later.
At a Diwali celebration hosted by the UK-based India Global Forum (IGF) in this city on Tuesday night, Braverman said that the UK is "keen" to reach a trade agreement with India to strengthen both economies and that Brexit has changed the country's perspective on commerce and visas.
The minister said that immigration from India had "profoundly benefited" UK villages, towns, and cities in an apparent attempt to distance herself from her previous contentious remarks that Indians make up the biggest group of visa overagers.
"India is in my blood, in my spirit, and in my heart. I'm really happy that my mother can trace her ancestry back to Madras and that my father has roots and a family house in Goa, she remarked.
"I have Indian ancestry on both sides of my family, therefore India is a part of my own background. My father is from Kenya, while my mother is from Mauritius. Even before they arrived in Britain, they had a strong affinity with and affection for the country. I too share that love. And since there is no discrepancy, I have never observed any inconsistency in it, he said.
In the Boris Johnson administration, Braverman, a member of the Conservative Party who represents Fareham in southeast England, held the position of Attorney General. She was one of the first candidates to put herself forward to succeed Johnson as leader and prime minister of the Conservative Party. Prime Minister Truss appointed her to the position of Home Secretary.
Daughter of Hindu Tamil mother Uma and father Christie Fernandes, who is of Goan descent, the mother of two. While her father relocated from Kenya in the 1960s, her mother left Mauritius for the UK.
Buddhist Braverman took an oath in front of Parliament based on the 'Dhammapada' text of Lord Buddha's sayings. He routinely visits the London Buddhist Center.
His resignation comes soon after Kwasi Kwarteng was dismissed as chancellor last Friday and his replacement, Chancellor Jeremy Hunt, eliminated the majority of the government's mini-budget on Monday. The action is anticipated to further destabilise Truss's troubled leadership.
A YouGov survey of Conservative members conducted on Tuesday found that 72% of those who supported Truss in the leadership contest that resulted in his triumph less than a month ago believe she is not doing a good job as prime minister. Only 15% of people think she's doing well.
The poll was conducted as Prime Minister Truss expressed regret for "mistakes" made during her first few weeks in office, when her entire economic agenda of tax cuts was reversed by the new Chancellor Jeremy Hunt and there was a general uproar within the Tory parliamentary party to find alternatives.
Truss is immune to a leadership challenge for at least a year under the 1922 Committee guidelines. However, just weeks after work started, his poor handling of the economy with a contentious mini-budget led to a brewing uprising among the troops.