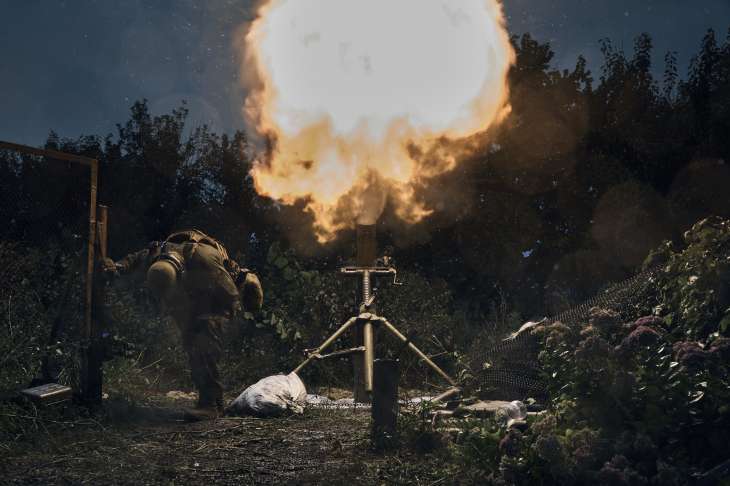 Saturday, after Ukrainian forces encircled them in the Russo-Ukrainian War, Russia withdrew its troops from an eastern Ukrainian city that it had been using as a frontline operations centre. It was the most recent Ukrainian counteroffensive triumph, which has embarrassed and enraged the Kremlin.
Russia's decision to depart Lyman makes it more difficult for it to annex four regions of Ukraine, a move that is unpopular worldwide. It also facilitates the movement of Ukrainian forces into territory that Russia unjustly claims as its own.
The fight is occurring at a crucial point in the conflict led by Russian President Vladimir Putin. Faced with Ukraine's achievements on the battlefield, which he claims are part of a US-led plot to destroy Russia, Putin issued fresh nuclear threats and employed his most extreme anti-Western rhetoric to date this week.
The Russian Ministry of Defense stated that Ukrainian forces had suffered casualties during the battle for Lyman, but that outnumbered Russian troops had advanced to stronger positions. Russia made its declaration shortly after Ukraine's air force announced its relocation to Lyman and the president's chief of staff uploaded photographs of a Ukrainian flag being hoisted outside the town.
Lyman was a significant transit hub on the Russian front line, making it a critical location for both ground communications and supplies. Lyman is located in the Donetsk area, which is approximately 160 kilometres southeast of Kharkiv, the second-largest city in Ukraine. It is close to the border with the Luhansk area, which Russia seized on Friday following a gunpoint "referendum."
Ukrainian forces have expelled Russian soldiers from the Kharkiv region and are crossing the Oskil River en route to Lyman and other vital areas. September marked the beginning of this counteroffensive.
The Russian bombardment has intensified over the past several days as Moscow has moved swiftly to seize Crimea and ordered a massive mobilisation at home to bolster its military.
According to Ukrainian sources, Russian soldiers targeted a civilian evacuation convoy in the northeast, killing twenty persons, including children. Saturday, the nuclear power provider in the south of Ukraine said that the head of Europe's largest nuclear facility had been blindfolded and abducted by Russian soldiers.
Despite the fact that Putin seized four districts of Ukraine on Friday, Ukrainian President Volodymyr Zelenskyy and his troops have vowed to continue fighting to liberate the annexed territories and other regions of Ukraine that Russia has annexed.
Saturday, Ukrainian officials said that in the preceding three days, Russian military had assaulted two assistance convoys, killing scores of people.
Oleh Syniehubov, the governor of the Kharkiv area, stated last week that 24 civilians were murdered in an attack on a group of individuals attempting to flee the Kupiansk neighbourhood. He described the attack as "useless and unjustifiable." He stated that 13 children and a pregnant mother were among the deceased.
Syniehubov reported on the Telegram chat service, "The Russians fired virtually point-blank shots at people."
The Security Service of Ukraine (abbreviated SBU) published photographs of the assaulted convoy. At least one vehicle appeared to have detonated, and there were burnt remains in its bed. Another vehicle in front of the convoy was on fire. There were bodies on the side of the road and even in their automobiles, which appeared to be riddled with bullet holes.
The Russian Defense Ministry stated that its missiles targeted and damaged Ukrainian military objectives in the region, but it has not commented on allegations that they also fired on fleeing civilians. As a result of the success of the Ukrainian counteroffensive, Russian soldiers withdrew from much of the Kharkiv region but continued to bomb the area.
Ihor Murashov, the general director of the Zaporizhzhia Nuclear Power Plant, was captured by Russian soldiers about 4 p.m. on Friday, according to Energoatom, the Ukrainian national nuclear enterprise. This appears to have been done to ensure Moscow's authority over the newly seized area. A few hours before, Putin had signed deals to annex to Russia portions of Ukraine that Moscow controlled, such as the territory surrounding the nuclear facility.
According to Energoatom, Russian soldiers stopped Murashov's automobile, blindfolded him, and then brought him to an undisclosed location.
Russia made no public comments regarding the findings. Saturday, the International Atomic Energy Agency was informed by Russia that the director general of the Zaporizhzhia nuclear power station had been briefly arrested to answer inquiries. The agency in Vienna did not provide any details immediately.
Multiple times, the power facility has been caught in the thick of hostilities. Even after Russian soldiers gained control of the power facility, Ukrainian technicians continued to operate it. The last reactor was shut down in September as a precaution since adjacent shelling was still ongoing.
In the biggest offensive in weeks, the Russian military attacked Ukrainian cities with missiles, rockets, and suicide drones on Friday. In an attack on the regional capital of Zaporizhia, thirty persons were murdered and 88 were injured.
The British Defense Ministry stated in its Saturday morning briefing that it was "almost clear" that Russian S-300 anti-aircraft missiles were deployed to strike a relief convoy in the region. Russian-appointed officials in Zaporizhzhia said that Ukrainian soldiers were responsible, but provided no evidence.
Governor Pavlo Kyrylenko stated on Saturday that Russian bombardment in the Donetsk area on Friday killed four persons and injured six others.
According to the region's governor, Vitaliy Kim, the Russian military assaulted the city of Mykolaiv in southern Ukraine twice overnight, once with drones and once with missiles. He reported that five individuals were hurt, including a 3-month-old infant.
After the land grab on Friday, Russia now claims to possess 15% of Ukraine. Since World War II, NATO Secretary General Jens Stoltenberg described it as "the largest effort to forcibly seize European land." He also stated that the fight is "at a crucial juncture."
Friday, Zelenskyy formally requested to join NATO. This increases the pressure on Ukraine's Western friends to defend the nation.
On Friday in Washington, President Joe Biden signed a package that grants Ukraine extra money and military assistance.