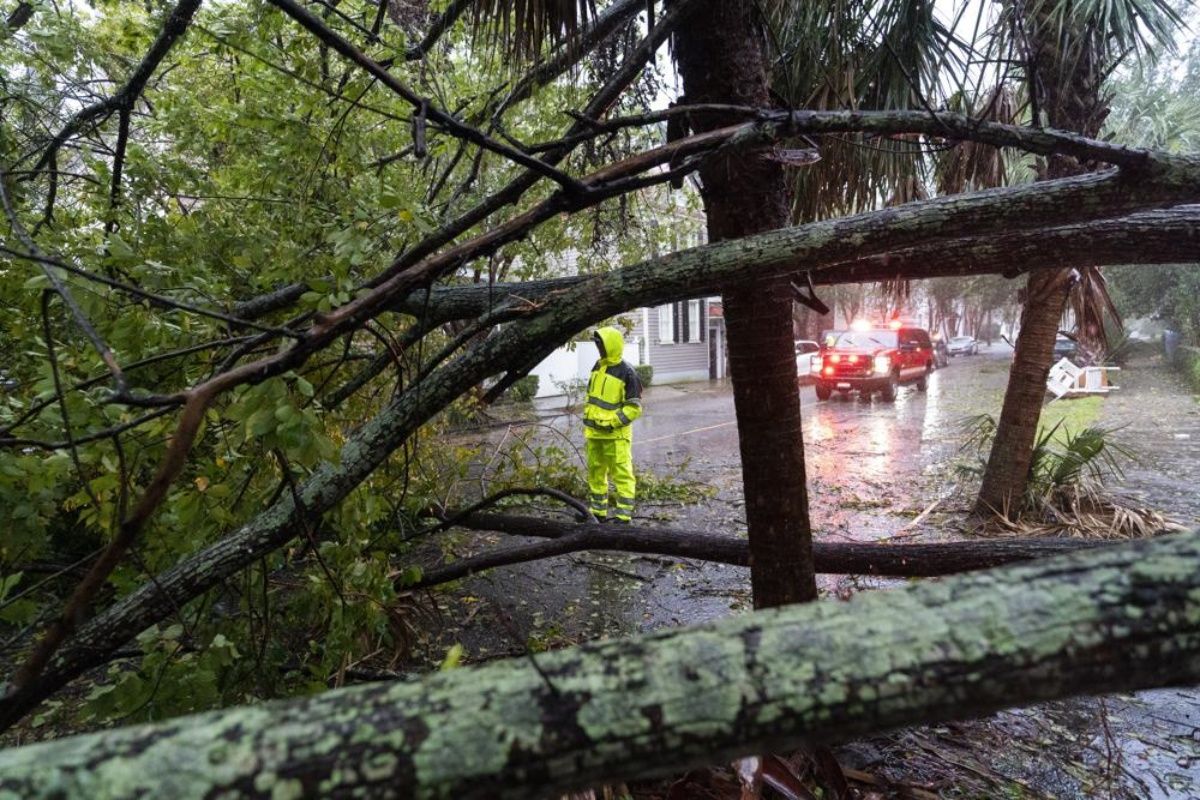 Hurricane Ian, which had been resurrected, threatened coastal South Carolina and the historic city of Charleston with heavy flooding on Friday, after causing devastating damage in Florida and trapping hundreds of people in their homes. Sheets of rain lashed trees and power wires, submerging most of the central Charleston peninsula before lunchtime. A prominent pier on Pawleys Island's beach neighbourhood crumbled and drifted away. Ian's planned landfall would coincide with high tide, exacerbating the floods.
Ian, one of the fiercest hurricanes to have hit the United States, caused a broad swath of devastation after making landfall on Florida's Gulf Coast. The hurricane flooded sections on both Florida's coastlines, pulled homes off their foundations, destroyed waterfront businesses, and rendered people powerless. At least nine individuals have been confirmed killed in the United States, with the figure expected to grow as officials confirm further deaths and seek for survivors.
The National Hurricane Center's 11 a.m. Friday update put Ian about 60 miles (95 kilometres) southeast of Charleston, with sustained winds of 85 mph (140 kph). The hurricane warning was issued by the centre from the Savannah River to Cape Fear. The prediction anticipated for storm surges of up to 7 feet (2.1 metres) and rainfall of up to 8 inches in certain coastal parts of Carolina (20 centimeters). Rescue personnel in Florida steered boats and strolled through beachfront neighbourhoods on Thursday to rescue hundreds of residents stuck between flooded houses and structures devastated by Hurricane Ian.
Florida Gov. Ron DeSantis announced on Friday that rescue crews had gone door-to-door in over 3,000 houses in the hardest-hit districts. "It has truly been a Herculean endeavour," he remarked at a press conference in Tallahassee.
According to a study done in the immediate aftermath of Hurricane Ian, climate change brought at least 10% additional rain, according to its co-author, Lawrence Berkeley National Laboratory climate scientist Michael Wehner.
Among the dead were an 80-year-old lady and a 94-year-old man who relied on oxygen devices that failed due to power outages, as well as a 67-year-old guy who died after slipping into the water while waiting to be rescued. Authorities say he had mould developing inside his house.
Given the huge terrain swamped by the storm, authorities worry the death toll will grow significantly.
According to Kevin Guthrie, Director of the Florida Division of Emergency Management, first responders have so far focused on "rush" searches geared at emergency rescues and first evaluations, which will be followed by two further waves of searches. He stated Friday that first rescuers who come across suspected debris are leaving it unverified, using the situation of a flooded house as an example.
A rescue swimmer from the Coast Guard dove into the water and found what looked like human bones. Guthrie said, "We don't know how many."
At least three individuals have perished in Cuba as a result of Tuesday's storm.
Businesses near Fort Myers Beach in Florida were entirely devastated, leaving twisted wreckage behind. Along with the shattered ships, broken docks drifted at weird angles. Fires raged on the lots where homes formerly stood.
"I don't know how anyone could have survived there," said William Goodison, who lived in a mobile home park for 11 years. Goodison spent the storm in his son's inland house.
The cyclone ripped through the park of around 60 residences, destroying or vandalising many of them beyond repair, including Goodison's. Goodison and his son waded through waist-deep water, pushing two garbage cans carrying what little he could salvage: a portable air conditioner, some tools, and a baseball bat.
Broken trees, boat trailers, and other debris cluttered the route to Fort Myers Beach. The automobiles were abandoned on the road when their engines were inundated by the storm surge.
To reach trapped persons, emergency services sawed down fallen trees. Due to power and mobile phone disruptions, many people in the hardest-hit areas were unable to contact for assistance.
A part of the Sanibel Causeway collapsed into the sea, preventing access to the barrier island home to 6,300 residents.
Ian gathered strength Thursday night over the Atlantic after dropping to a tropical storm when it skirted the Florida panhandle. The National Hurricane Center estimated it will make landfall in South Carolina as a Category 1 storm on Friday, still a far cry from the Category 4 hurricane it was on Wednesday.
National Guard personnel were positioned in South Carolina to assist with the aftermath, which included water rescues. In Washington, President Joe Biden has authorised a state of emergency declaration, a crucial move to expedite federal recovery aid following Ian's death.
Governor Roy Cooper of North Carolina has warned citizens to brace themselves for heavy rain, severe winds, and possibly power disruptions.